Cheeky Wipes Stand G8 Excel baby Show
17 February 2014 | Admin
Excel Baby Show - this Fri, Sat & Sun 21st - 23rd February - discounted tickets available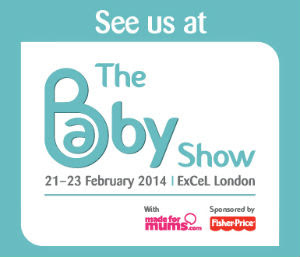 We're attending the Excel Baby show this Friday, Saturday and Sunday, so if you're visiting make sure and pop along to see our washable baby wipes kits on stand G8, up close and personal!
Advance priced tickets will be available until midnight on Thursday 20th February. After this time, visitors will be able to download a £4.50 voucher so you can purchase tickets on the door for just £15.50.
Unfortunately, that means our office and warehouse will close at lunchtime on Thursday 20th, reopening Monday 24th to play catch up!
We will try to respond to emails if at all possible, however if we don't get back to you, please bear with us, the shows do get frantic and we will respond on Monday at the latest.